Cruisin' Oldies Concerts presents
Pink Floyd Concert Experience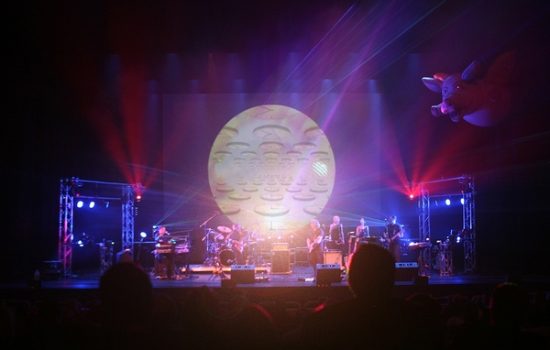 West Coast Performing Arts Presenters
Presents  
Pink Floyd Concert Experience:
An Evening of Pink Floyd
starring House of Floyd 
Fri. Nov 9,  2018
Showtime 8:00pm
"An incredible show that rivals its competitors for sonic realism and visceral excitement."– Los Angeles Times 
Experience the ultimate Pink Floyd Tribute Show in this live musical performance starring House of Floyd!
The Bay Area's HOUSE OF FLOYD performs the music of Pink Floyd, and has gained a strong following for their unique ability to enthuse both the hard-core fans of the early adventurous Floyd and those who enjoy the songs and soundscapes that later brought them widespread appeal. They capture the essence of each of the various Pink Floyd eras from the formative Syd Barrett days, through the 70's and the final post-Waters era.
In the Pink Floyd tradition, a HOUSE OF FLOYD concert incorporates sound effects, moving lights, lasers and video projection – including many of the original, legendary backing films used by Pink Floyd. The set lists on any given night might be from an actual Pink Floyd concert, or a custom HOUSE OF FLOYD mix, but always includes rarely heard live arrangements used by Pink Floyd in concert – as well as the occasional obscure pieces that never made it to vinyl and were heretofore unknown to all but the serious collectors.
The Pink Floyd Concert Experience has packed sold out houses throughout the U.S. and their spectacular stage show is not to be missed.
'House of Floyd' performs their ultimate Pink Floyd tribute show Live – including backscreen and laser lighting.
This is a live recreation of an actual Pink Floyd concert and highlights the greatest and most popular music of their career, including "Dark Side of the Moon," "The Wall," and "Wish You Were Here."
"One of the best Pink Floyd shows we've seen!"
– San Francisco Chronicle
Everyone attending an event at VPAT, regardless of age, must have a ticket to gain admission. 
Friday, November 9, 2018
/ 8:00PM
/ Tickets: $39.00 - $49.00