City of VV & Soroptimist Int. of VV
Jane Doe in Wonderland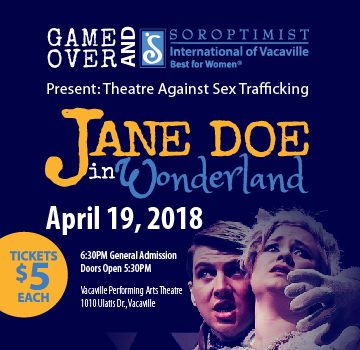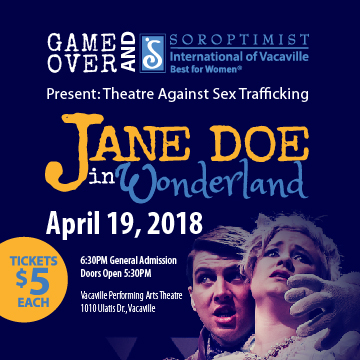 The Soroptimist International of Vacaville, City of Vacaville & Vacaville Police Department presents:
For the second straight year, Soroptimist International of Vacaville and the Vacaville Police Department are teaming up to inspire a frank discussion of sex trafficking in Solano County, this time showcasing a ground-breaking original play titled, "Jane Doe in Wonderland."
Written through the collaboration of Game Over, an anti-sex trafficking nonprofit organization founded by survivor/educator Elle Snow and MFA playwrights Grace Booth, Kate Tobie and Erin Johnson, the play draws parallels between the well-known story of Alice In Wonderland and how young women and men are lured into the world of sex trafficking.
Jane Doe is written for a high school audience in a manner that is non-violent or explicit. It f…ollows the most common case: that of a 'Romeo Pimp' targeting a rural high school girl by pretending to be her boyfriend before bringing her to an unfamiliar city and trafficking her. In addition to addressing the common 'red flags' of this type of trafficker, the play specifically addresses the most commonly asked question, "why don't victims run?"
The hour-long performance will be followed by a panel discussion where audience members can ask questions and learn directly from a survivor's experience.
The panel will also update our community on the most recent legislation AB1227 which was signed into law without funding as of January 1, 2018 requiring all secondary schools to make anti human trafficking a part of their school curriculum. Soroptomist International of Vacaville and 3 Strands Global have the only curriculum available that meets the state mandate and we are excited to share our plans to roll this out to all teachers and students in Solano County.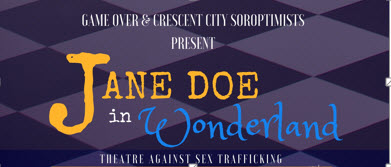 *This event is open to youth and adults.
Thursday, April 19, 2018
/ 6:30PM
/ Tickets: $5.00